Order From Us Today!
With over 40 years of experience, Seco Designs handles everything– from designing and taking the initial measurements to the delivery and final installation. See below to find how ordering from us is a simple process.
Pre-Production
Call or email to let Seco Designs know your needs.
Steven Cohen, owner for more than 40 years, will personally provide a FREE in-house consultation to measure at your home, office, commercial suite, or any other venue.
Express your vision with Steven, and he will begin to bring your dreams into reality with his 3-dimensional drawings designed perfectly to scale.
Production
After a design is approved, Seco Designs will begin production.
We encourage you to be involved throughout the production phase to see your project come to life before your eyes.
The raw product is staged in the shop to mock the exact set up that would appear in your venue for final approval before the finished color is applied.
Installation
Within 10 days after the staged project is approved, the finish is applied.
Seco Designs delivers and installs the finished project directly to you.
We will provide full service at any time, even in the post-installation phase.
Custom Woodwork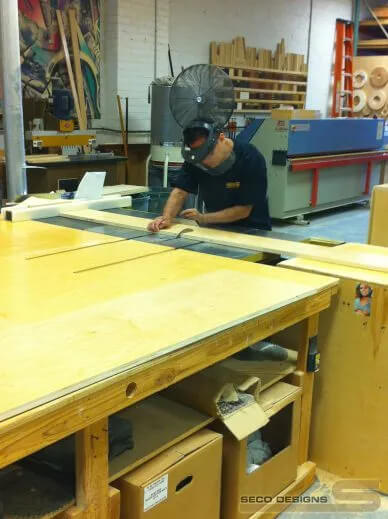 It has been our pleasure to have conducted business with you for the past 15 years. The quality of the design and execution has been exceptional and consistent throughout. From…